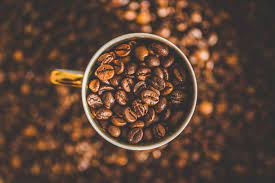 Did you know that today, September 29, is National Coffee Day?
What's better than starting off your morning with that delicious smell of freshly brewed coffee and a steaming cup of it in your hand? Especially now that it's getting cold outside, make sure to have a nice hot drink to help you get through the breezy fall days. If you're not feeling a classic black coffee, spice it up with the seasonally offered pumpkin spice coffee.
Many people enjoy a nice cup of coffee throughout every season because of how coffee is able to change with the type of weather you're in. These options include a cold, iced, or hot cup of coffee. Iced coffee gives you that fresh, cooling feeling when the weather is blazing hot, while hot coffee offers a comforting, warm presence when the air is crisp outside.
National Coffee Day is such an important date to celebrate; it not only helps you through different kinds of weather, but also keeps you feeling more energized. Overall, coffee is a great thing to have on hand when you're feeling tired or stressed. Unless it's decaf, coffee contains caffeine which helps re-energize you when you're sluggish.
Not only does coffee benefit you in terms of energy, it also expands your taste. There are many varieties of coffee; in fact, there are over 129 types of coffee. Some of the popular coffee choices people typically go for are espressos, frappuccinos, lattes, iced, hot, cold brew, and many more. Aside from the different versions of how coffee is prepared and presented, the amount of available flavorings seems to go on forever. This includes caramel, hazelnut, vanilla, mocha, cinnamon, peppermint, and pumpkin.
Other than the joy coffee brings to your taste buds and energy levels, coffee has numerous other benefits as well. Coffee shops, such as Starbucks, have made life easier when it comes to wanting a coffee that doesn't include brewing it or taking the time to make it at home. Coffee shops offer more options of coffee with a short wait for the drink. Not only do coffee shops have the advantage of making the drink in a quicker time, but people also have the option of different types of coffee beverages such as a frappuccino or an espresso which are typically not available at home.
Coffee is a popular drink both in the U.S. and around the world. It's also been around for years, and despite its flavorings and serving types changing, the fundamental process of brewing coffee has remained the same. After roasting the seeds,  grinding them, and filtering the beans, you are left with the rich drink we all know. While most people do not go through this process as home, this is how the coffee that comes in prepared bags is made.
With National Coffee Day and fall officially here, don't forget to celebrate National Coffee Day and make it special with a little fall touch!