After opening on the corner of Knapp and the East Beltline during the summer, Jade Tea has become a popular, local, boba cafe that offers a multitude of drink options. The official opening was on August 8, taking place with a ribbon-cutting ceremony. The owner and creator of Jade Tea expressed her excitement on their opening by stating in the caption of an Instagram post, "I've always wanted to have a safe space for a community to retreat to," and how Jade Tea "hits the sweet spot." Now, with a few months of business experience, the Jade Tea shop remains just as popular as on its opening day. Their menu includes drinks ranging from smoothies to milk tea to slushies, with each bringing a unique flavor to your taste buds; here's a simple breakdown of some of their more popular options.
Strawberry Smoothie with Strawberry Popping Boba
First up is the strawberry smoothie with matching popping boba. With my co-taste tester, Ruth Gleason ('24), we eagerly tried this pink drink. Immediately, you're hit with a burst of flavor. The strawberry envelops your taste buds while taking on a hint of shortcake as well. Ruth explained its flavor saying, "It's pretty sweet, which typically isn't my favorite, but the blend of flavors brings everything together really nicely." This cold drink is a perfect option for a sunny day or when you want a sweet treat for yourself!
The Classic Milk Tea
With a black tea base and sweet syrup, this milk tea drink remains a classic. While on the sweeter side, it retains a strong tea base, allowing the sugar to not overpower the rest of the taste. When it's mixed with boba, the drink truly becomes the classic boba drink you imagine. The chewy tapioca flour and chilled milk tea are added to create the "ideal" boba drink. I believe it is a great option for those who are not looking for a boba drink with overwhelming flavors, but rather one that has that "classic" taste.
Taro Milk Tea
Taro is a type of purple sweet potato that is used in many Asian desserts, including milk tea. This purple-colored drink transports your taste buds into a world of natural sweetness. Small pieces of the sweet potato are kept in, adding a soft texture similar to boba. While some may find this drink too sweet, Jade Tea allows customers to personalize the amount of sweetness they wish to have in their drink. If you think you would prefer something less sweet, you may also order your drink at 0%, 25%, 50%, and 75% sweetness compared to the standard 100%. This drink is perfect for those who love a sweet drink and need a nice, but not too powerful refresher.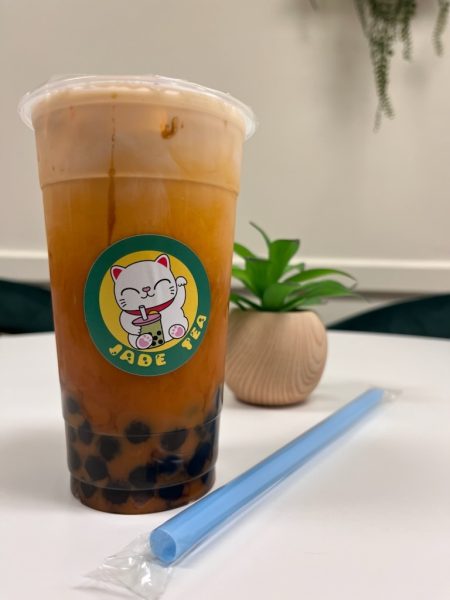 Thai Iced Tea with Boba
This tea, in my opinion, has the perfect blend of sweetness. The black tea base remains prominent but also combines with the Star Anise and Cardamom spices very nicely. The tapioca pearls also add a texture variety and taste shift. Ruth believes the sweetness from the boba and strong tea base creates "a warm cozy feeling that welcomes you into Fall." If you're looking for a nice drink that's not too sweet, this is a good go-to option.
Mango Aloe Tea with Popping Mango Boba
This yellow refresher is a drink that is guaranteed to wake you up. Although it contains no caffeine, this sweet and fruity drink knocks your senses awake as the mango flavoring hits your tongue. This drink leans towards a sweeter side due to the aloe tea base and added popping mango boba. When ordering, I would recommend asking for a sweetness level of 50% or 75% to help tone down the sugar level. However, if sweetness is what you're looking for, then this is the drink for you.
After trying a few drinks of the many offered, Ruth and I are both sure that we'll be back. The decor on the inside is simple but elegant with green and gold chairs available for seating and a soft pink couch in the corner. In addition to its cozy vibes and atmosphere, the cafe also sells artwork and other small business items in the shop in order to promote community inclusivity. With it being open from 12 p.m. – 8 p.m. Sunday – Thursday, and 12 p.m. to 9 p.m. Friday – Saturday, they're always welcoming new customers. So, next time you have a craving for a drink or simply need a place to relax, make sure to check out Jade Tea!