With fall officially here, many restaurants are beginning to roll out their heavily anticipated fall flavors. While this season is enjoyed for many reasons such as the changing leaves, crisp air, and cozy sweaters, delicious food remains one of the most popular aspects of autumn.
There are many classic flavors that begin to make an appearance this time of year: apples, pumpkin, pecan, cinnamon, and more. But pumpkin is something that has a multitude of flavorful possibilities. One such, is ice cream. With all of the different restaurants and ice cream shops open though, how will one know where to find the best pumpkin spice-flavored ice cream? You could look up reviews or simply pick one place to try; but why do that, when you can visit multiple stores and taste a variety of delicious ice cream? If you don't want to go through that amount of driving, however, I understand. Luckily, I've done the courtesy of visiting three fast-food restaurants for your convenience — and my enjoyment– to rate the experiences on a scale of one to ten, including factors like presentation, flavor, price, and convenience.
Wendy's
The first on the list was Wendy's. This classic, cheap, and quick option managed to surprise me with its new Pumpkin Spice Frosty. Depending on the season, like many other fast food chains, seasonal flavors are sold in different months. After the hot debate over the loved-hated Strawberry Frosty, I knew I had to check out the pumpkin flavor to see if it supported the same controversy: is the temporary flavor worthy of replacing the classic vanilla? We'll start off with serving sizes and presentation. After a long and cold practice, I drove to Wendy's eagerly awaiting a refreshing treat.
I ordered a small and was not disappointed with the portion given to me. The cup was filled to the lid with a pale orange cream, similar to the color of an ice cream push pop. For only $2.99, a generous serving was given. But was the ice cream worth the price? Yes. After taking a bite, I was transported into a wonderous world of cold pumpkin spice. Eden Hostetter ('25), a co-taste tester, stated "It was simply delectable!"  Although the flavoring wasn't as prevalent as we had originally anticipated, it did not disappoint. As usual with frosty's however, parts of the ice cream began to quickly melt, leaving behind a soupy bottom. Despite this, the convenience of having Wendy's readily available at multiple locations in Grand Rapids is hard to compete with. Overall, the rating for this pumpkin spice ice cream is 8/10.
Pump House
Next up is Pump House. This popular frozen yogurt shop offers numerous flavors, with some changing as often as every week. Adding the flavor of pumpkin spice to their repertoire was no surprise for this location. While it's typically expected to add a variety of toppings to the frozen yogurt, for the sake of keeping the ratings only relating to the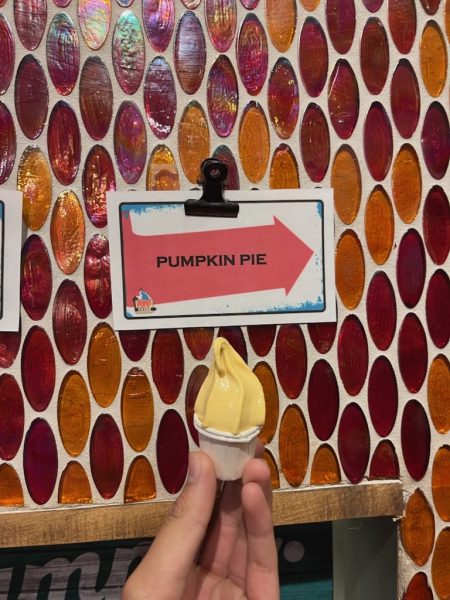 ice cream flavor, all toppings were forgone. With Pump House being a self-serve shop, the presentation of the ice cream was quite simple. I'll admit, while I am an avid fro-yo enjoyer, my skills in serving it still lack. Serving sizes also are up to the customer, as the price is determined by the weight of the cup. This leaves it easy for you to rack up a large cost if you're not careful with how much you fill your bowl with. Despite this drawback, however, I do enjoy the unlimited samples you're able to try. Knowing this, I took the liberty of taste-testing both of the new fall flavors available. This included the Pumpkin Spice Latte and Pumpkin Pie. After getting a good taste of both — several times — I was finally able to make my decision on which one I would judge: Pumpkin Pie.
Similar to the Pumpkin Spice Frosty, the color of this frozen treat was a pale orange. Unlike the frosty however, the ice cream held its texture nicely, even after sitting out for a few minutes! So for those who may get distracted while eating, or are slower eaters, this ice cream is a good choice for you. For half of a bowl filled, I spent $5.49, which I would say isn't that bad considering the size of the bowl. Although, if you compared a small Wendy's frosty portion with my bowl, I would say they are around the same; in this regard, Pump House loses some points compared to its Wendy's competition. The taste itself was rather similar to Wendy's frosty but slightly less prominent. Because I had this with no toppings, I think it was lacking, but maybe if some toppings were added, it would spice up the treat. Due to this, I would rate the Pumpkin Pie fro-yo from Pump House a 5/10. It's good if you want a quick treat that you can customize, but also nothing particularly special.
Culver's
Finally, you know it and you love it, the Culver's custard is next up on our fall ice cream adventure. With it being tradition that after every regatta — a rowing competition — the team would stop by Culver's for our well-deserved treat, it felt wrong if I broke this streak by visiting the fast food restaurant without racing first. So naturally, I had to wait for our next regatta to roll around, and on October 7 that day came. Coming home for a nine-hour regatta, I was desperate for something to revive my deplenished soul, and after having that Culver's treat in my hands, I had never seen anything sweeter. Culver's introduced their new fall flavor of pumpkin spice in a shake. With a generous topping of cinnamon on top, the blend between the sweet pumpkin and warm cinnamon was a good combination.
The pumpkin flavoring was delicious and seemed to melt in my mouth — literally. The small size was similar to the amount provided by Wendy's but came at a steeper price of $4.64. Eden joined me once again on this trip, and after tasting the shake she decided, "It's pretty good. Nothing bad, but nothing too special either. Although, I do love pumpkin flavor so I may be a bit biased when I give it an 8/10." Following Eden's trustworthy rating, I too would rate the flavor an 8; however, with the lack of available Culver's around, I rank it as a 7/10 due to the inconvenience of driving distance from where I live.
Overall, I would say all of these ice creams were pretty good, but Wendy's gained the upper hand over Culver's and Pump House. Personally, for my location, Wendy's came out on top for the best presentation, taste, convenience, and price. But don't let my rankings deter you from trying the classic pumpkin flavor at the stores mentioned above, or venturing out and doing your own taste-test at different shops! After all, one can never try too much ice cream. This classic fall flavor will be around for a few more months before switching to a seasonal winter flavor, so you have plenty of time to try the pumpkin flavor!