On Tuesday, "Swifties" (Taylor Swift fans) endured a daylong hunt, that sent them through the internet searching for clues and hints to unveil the 1989 (Taylor's Version) "From the Vault Tracks." Swift's team partnered with Google to create an internet-wide interactive vault, featuring 89 Taylor Swift-related word puzzles. The catch? Fans must complete a total of 33 Million puzzles in order to fully unlock the vault. To no one's surprise, fans were able to complete this task in just under 24 hours. 
Swifties can officially add breaking Google to their resume since the browsing site crashed during the hunt. Ticketmaster and Spotify have also fallen victim to Swift's unprecedented fanbase. Google issued a statement on the 1989 puzzles after the outage stating, "Dying to see how this one ends? We promise that the wait isn't gonna be forever, but the prize will definitely be worth the pain. Cause darling, we're a Swiftie dressed like a search engine."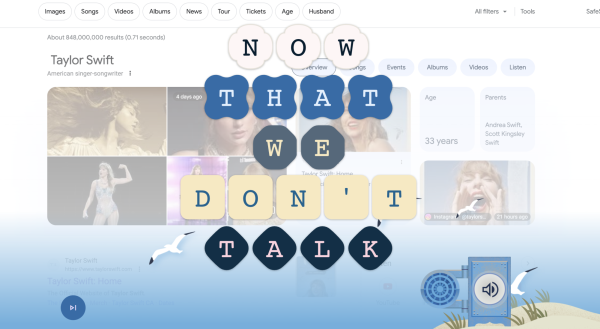 Once the mysterious blue vault was unlocked, fans could hear Swift's voice announce 4 of the 5 new tracks as the code slowly unscrambled. "Say Don't Go," "Now That We Don't Talk," "Suburban Legends," and "Is It Over Now?" will all be featured on Swift's next album coming October 27th. 
Hours later, Swift took to social media to release the back cover photos of all four newly announced vinyl editions. These vinyl editions, including the vault tracks, are available for a limited 48 hours and exclusive to Swift's store. The back covers revealed the full tracklist of the album, as well as revealing a featureless album. This "surprise" was largely unexpected for the 2016 Album of The Year winner, and fans will continue to eagerly wait to see what will be revealed next by the famous star.