Coached by Dan McElheny and Alyssa McElheny, the boys Cross Country team headed off to the state meet on Saturday, November 4, 2023. The meet occurred at Michigan International Speedway in Brooklyn, Michigan, where all four divisions competed for their respective state titles. After competing with hundreds of schools across Michigan, the Forest Hills Eastern's boys Cross Country team became the Division 2 state champions. 
Not only did Eastern receive the D2 state title, but various Eastern athletes returned with state honors. At the meet, Henry Dixon ('25) ran the 5k at 15:16, breaking the previous school record of 15:26 held by Aidan Sullivan. Henry was also named an All-State Athlete after placing 6th in the state out of all D2 athletes. Alongside Henry, Brendan Hoving ('24) and Liam Hinman ('24) also received All-State honors, with Brendan placing 30th in state and Liam placing 29th. 
To qualify for states, a team must place top three at the regional meet; unfortunately, the girls' cross-country team placed fourth, so the varsity team did not qualify. Although the girls' cross country team did not qualify for states as a whole, Addison Washler ('24), Ainsley Sullivan ('25), and Jillian Clason ('25) placed top 15 overall, allowing them to individually qualify for states. Addison placed 26th in the state and was named All-State for girls cross country. Despite competing in various high-stake meets, Addison disclosed that she still "gets super nervous before a race, but as soon as the gun goes off the adrenaline kicks in and I get very competitive." Despite running 3.1 miles being an arduous task, she mentioned that "while I'm racing I have to keep reminding myself to keep the pace and continue to try and pass more girls. A lot of times I think about my teammates and race for them."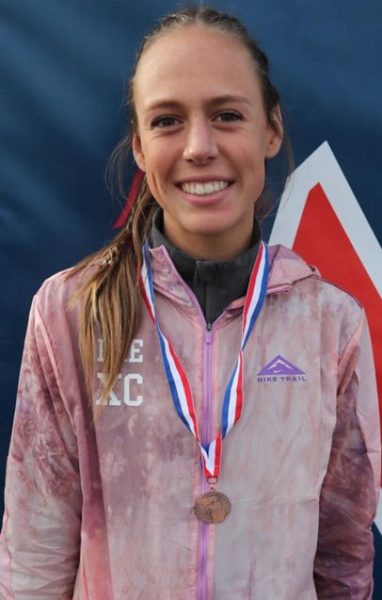 While states marked the end of her senior cross-country season, Addison stated that she will never forget the memories she formed while racing alongside her teammates. Her "favorite thing about cross country is getting to go run every day with the team. I have made so many relationships with teammates and coaches that I will always be thankful for. I also love seeing my times drop, in running it's easy to see improvement which can really boost confidence." 
With a hard-working attitude and 5k P.R. of 18:27, many colleges looked to recruit Addison. She looks forward to continuing her cross-country and track career at Grand Valley State University during her time in college after recently signing with their program. She will race year-round, "running cross country in the fall, racing indoor track in the winter, and competing in outdoor track as well."
Addison commented that another "important thing about cross country is the amount of running we do in the offseason." Not only does Addison compete throughout fall, winter, and spring, but she also trains hard consistently. She stated that "the best way to have a better season than the year prior is to run miles in the summer and winter." Addison explained "This summer I ran over 400 miles in 3 months, which is the most summer miles any runner at FHE has run. In the winter, we run in the snow every day in order to get ready for the track season." Overall, she disclosed that cross-country runners only "take 2-3 weeks off the entire year and run 6 out of 7 days of the week to continue getting better."
With various athletes receiving All-State accolades and the boys' cross country team winning states, Eastern's cross country team finished off their season on an impressive note, proving that all of their off-season training is effective.