Monday, October 2nd, Republican Representative Matt Gaetz of Florida, filed a motion to oust the current house speaker over the passing of his new spending plan. The budget plan was passed 2 hours before a looming shutdown, which would have sent the country into economic despair. A government shutdown happens when Congress fails to pass 12 budgets, funding government activities. All "non-essential" federal workers would be temporarily let go, and "non-essential" agencies would be required to cease their functions until Congress acts.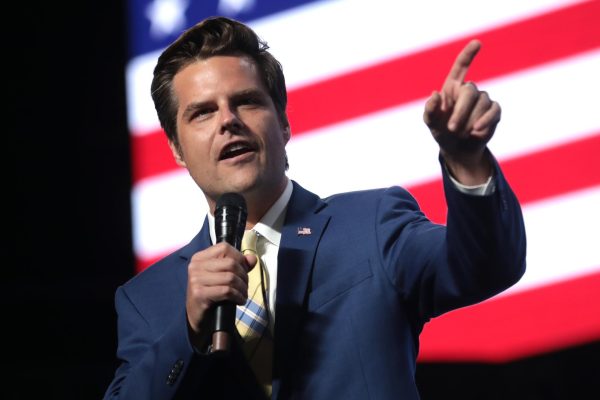 The now-former speaker, Kevin McCarthy, was elected in January after 15 rounds of voting, the longest since 1855. This historic first for the 21st century proved just how difficult it would be, to govern a + 5 Republican majority. 
Kevin McCarthy's Speakership only lasted 269 days, but all 269 days were filled with shocking challenges, crazy surprises, and unimaginable drama. During the first months of the 118th Congress, many pockets and "friend groups" full of congressmen formed in the Republican Party, including Matt Gatez's "hard-right" group. This group falls on the furthest end of the political conservative spectrum and consists of only 45 members in the U.S. House of Representatives. The "House Freedom Caucus," is filled with the most conservative members of the Republican conference in the House.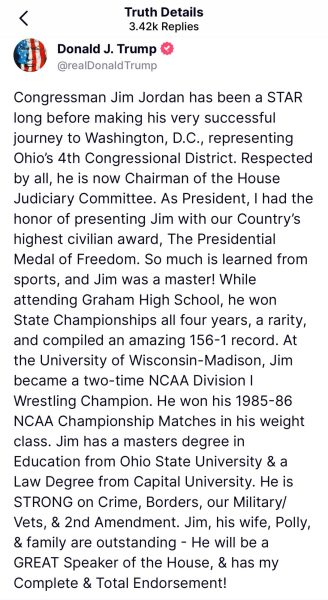 The House Freedom Caucus (HFC) has seemingly been at the forefront of all struggles regarding the House of Representatives, particularly with spending issues. Over 90% of the HFC are anti-McCarthy members, which consists of enough votes to effectively halt any legislation, and now, fire the leader of Congress. 8 Republican members of Congress, sided with 208 Democrats to oust Speaker McCarthy, whilst only 210 Republicans voted to keep McCarthy as the speaker. 
The question remaining in everyone's mind: Who do we elect next?
No one really knows the answer to that question. While an interim speaker (Patrick McHenry of North Carolina)  has been named, per a private list put together by Kevin McCarthy, the house is paralyzed until a new speaker is elected. The first motion made when Interim Speaker McHenry was presiding over the House, was to recess until Wednesday, October 11th. As of Thursday evening, Representative Jim Jordan, Vice Chairman of the House Freedom Caucus, has been the only official representative to announce candidacy for the speakership.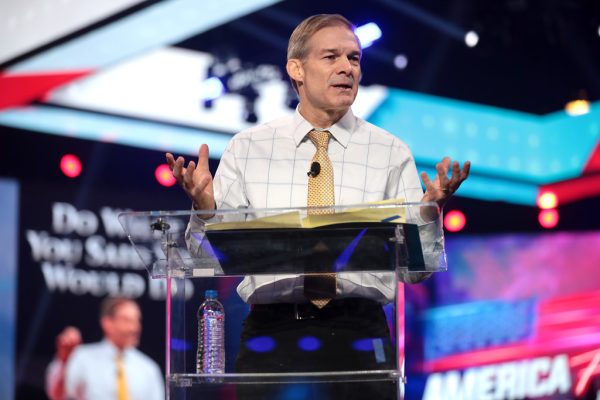 This isn't the first time Rep. Jordan of Ohio has expressed interest in becoming speaker, as he was nominated numerous times in January, during the opening votes for Speaker of the House. Jordan, however, did not vote to oust McCarthy from his spot, which adds to a strange pattern in which all 8 House members who ousted McCarthy, have expressed zero interest in running for the speaker position. Former president Donald Trump has formally endorsed Jim Jordan for speaker via his social media platform, Truth Social, stating "He will be a GREAT Speaker of the House & has my Complete & Total Endorsement!"
Many Michigan congressional figures have spoken out regarding this historic dysfunctional term of the U.S. House of Representatives. Republican Representative Mark Huizenga of Michigan's 4th Congressional District stated "What I've been hearing from folks back home, even people who were not Kevin McCarthy fans, who were not fans of my vote for him for speaker, have said, come back to me and said, 'this is chaos. This is not healthy. This is not good for us at all, and we've got to find that path forward,' so that's what we're trying to do," Huizenga stated in an interview with Fox 17. Representative Huizenga voted to keep McCarthy as speaker. 
Democratic leader Hakeem Jeffries led a nearly 3-hour-long meeting the morning of the vote but told all democratic representatives that their vote was their choice. While unlikely, democrats are hopeful a democratic speaker could be elected. This would require at least 5 Republicans to cross the aisle and vote publicly for a Democrat, which makes this challenging wish even more difficult. 
With a quickly approaching deadline (November 15th) to pass legislation to keep the government open, lawmakers are concerned this could seal the deal for a shutdown. Representatives on both parties have voiced their concerns with the motion to remove McCarthy from office, and some have even gone as far as making calls to remove Matt Gaetz from office entirely.