It's spooky season! Get ready for the thrill, don't forget your popcorn, and have your horror movies at hand as you pass through the month of October. The Haunt is also ready for you to walk through and scare some terror into your eyes.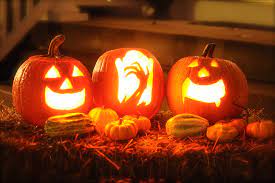 What's better than scary stories, horror films, power outages, pumpkin carving, thunderstorms, and worst of all, clowns? October is the month to face your fears and have fun while keeping a spooky feeling by your side. The Haunt, located in Wyoming, Michigan, gives you the thrill you've been waiting for all year.
Opening on September 29, 2023, this year marks its 20th anniversary, keeping some old traditions, while bringing in new scares. The Haunt recently added more themes, now housing over a hundred-forty-four rooms. Each group is given about twenty-four to twenty-five minutes to stumble through the rooms made from worst nightmares. 
When planning your visit to The Haunt, there are some things to look out for. One timely suggestion is attending on a traditionally less busy day, such as a Thursday or Sunday. This way, you can enjoy your visit and leave with a racing heart without having to wait through a long line. Some other important knowledge specifically applies to those 15 years old and younger. Make sure to bring an adult along to ensure you can enter and enjoy your experience, as they are required for those under 16. Finally, make sure to book your tickets in a group with the people you are planning on attending with. This ensures that your group can stay together, rather than be split up to fill another group's numbers! Groups for The Haunt are typically eight members with groups any smaller being combined to reach that total.
Ticket information is also important to know before planning your trip. All tickets supply you access to the full experience, but there are options such as general admission, VIP/Fast Pass, and group bundle. The classic general admissions ticket costs $30 each. Next is the VIP/Fast Pass Ticket coming in at $50 each. Both of these ticket types are available for purchase individually, meaning you do not necessarily have to come with a group. However, the last option — the group bundle — offers a group of 12 or more to get $5 off each ticket, reducing the price to $25 per person.
The Haunt also includes fun themes depending on the day you go! One fun feature is Black Out. The Haunt has a catchphrase, "Can you survive the Haunt with only a glow stick?" On these nights, only a glow stick is allowed to guide you through the haunted home. Are you going to survive the fear in the dark? Find out on November 3 and 4.
Hurry now before you lose your chance at the available dates! You can book your tickets on The Haunt's website by clicking on their Tickets tab. The first day to book your tickets is September 29 with the last day being November 4. The times of The Haunt's opening can also be found on their website's calendar. Dates colored yellow will be open from 6:30-10:30 p.m. while those colored red open at 6:00 p.m. and close at midnight. Don't forget to add visiting The Haunt to your fun fall activities bucket list! This is the year to celebrate the anniversary of scares and fulfill your fears. You can visit The Haunt at, 1256 28th St SW, Wyoming, MI 49509.